As a full-service Landscape Designer, my goal is to provide my clients with a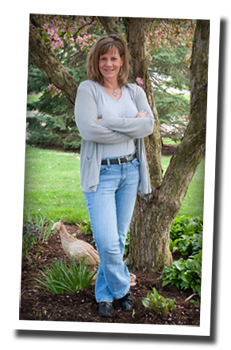 landscape design that fits both their needs for aesthetics, as well as functionality in their outdoor living space. Located in Kirkland, Illinois, I am available to meet clients at their home or business in the western suburbs of Chicago, as well as Rockford and surrounding areas.
I take great personal pride in creating custom designs for homeowners or commercial businesses that are truly unique. Types and styles of designs can range from informal to formal; various degrees of seasonal interest; low to high maintenance; and more. I gather all pertinent information from you in order to personalize the design to your wishes and needs. All plant material chosen for the designs are grown locally in the Northwest region of Illinois to ensure they will flourish. My designs come with a complete plant list and all information necessary for installation. This allows the homeowner to decide if they would like to do the installation, hire a landscaper to install, or leave it to me to carry the process through to completion, supervising the installation to make sure my landscape plan is followed in detail.
In addition to plant material,  hardscapes (brick pavers or natural stone) for patios, walkways, driveways, retaining walls, accent walls, and accent pieces can also be incorporated into the design process, to complete your perfect outdoor living space. Again, using local sources, I can help facilitate the installation of all hardscape materials called for in my designs.
My love of gardening dates back to my childhood. I decided to turn my passion for horticulture into my career by earning my Associates in Applied Sciences degree in Horticulture from Kishwaukee Community College. I have over 10 years of professional landscape design experience, and while working for another design/build/install firm, I was awarded both Gold (commercial) and Silver (residential) awards through the Illinois Landscape Contractors Association (ILCA) in 2006.
All of my designs are done using state-of-the-art VIP3D Structure Studios computer software. This program enhances softscapes (plants) and hardscapes (brick, stone,pool, pavers), showing the client attributes associated with the various materials. You may choose to do a 3D design which includes a video and 2D design for the installation process, or you may choose a 2D design only. A flash drive of the design is provided to you. I believe in educating my clients on the plants and/or hardscapes being installed so they can visualize the final product. I can provide pictures of the plant material and/or hardscapes.
From the beginning of your vision of the perfect outdoor space to the final product, I can conceptualize your information into a cohesive landscape plan, resulting in a beautiful living space sure to meet or exceed your expectations. Your happiness and joy with your home is my objective, so please don't hesitate to contact me and get started on your quality landscape design.
I look forward to being of service to you,
Melinda Quigley
Landscape Designer
Getting started is easy; call Melinda Quigley at 815-762-4877 or email me
1liquidamber@gmail.com
to schedule an appointment at your home or business.