At our first initial meeting, I will gather information regarding your desires, needs, likes, dislikes, and interests for your outdoor space. I will show you examples of actual designs and explain the process to you.  You will be provided with a portfolio of my previous softscape and hardscape designs to browse. Digital photographs will be taken of your property, along with measurements. A plat of survey of the property might be requested at this time, to confirm dimensions. A down payment of half of the design total along with a signed contract is all that is needed to begin work on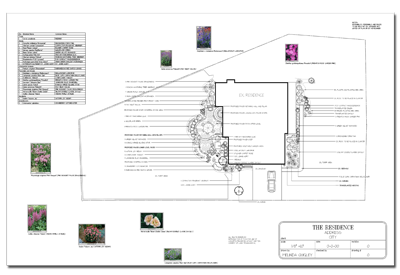 your project.
Within a week and a half to two weeks I will set up a second meeting with you to present the design to you. At that time, I will review the plant material selections by presenting pictures and plans for plant placement. If hardscapes are included in the plan, they are reviewed along with explanations of different elevations. Final payment will be due at this time. All designs include a small revision if something needs to be changed. If you require services such as a second design option, there will be an additional charge. During design phase of  your project I encourage you to contact me with any questions or concerns. All designs are kept on my computer for one year.
If you would like me to assist you in the installation process, I am available at an hourly rate to do so. I can also recommend installation companies to work with so you may bid out your job. Remember I work for you
, and your satisfaction is my ultimate goal.
Are you ready to start the process? Contact Melinda Quigley at 815-762-4877 or email me
1liquidamber@gmail.com
to schedule an appointment at your home or business.